McCluer High School
Class Of 1972

Coming in Fall 2022:
our 50-year reunion!
We will start planning in Fall 2021 and will release information here and on our Facebook page. Be sure you're registered here (instructions below) or have updated your email address on your profile page. We will not do a postal mailing; all contact will be through email. You can also contact us at info@mccluer72.com.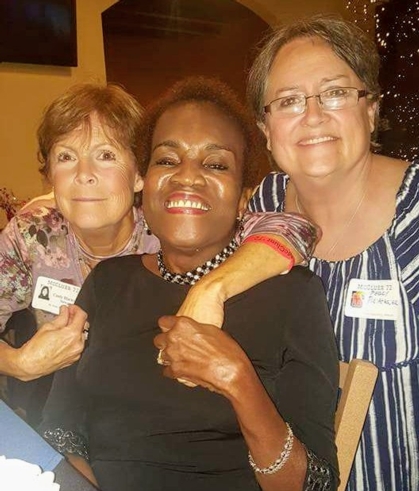 Cindy Blackwell Stewart, Beverly Crosby Blackmon, and Peggy Blackwell Leibbrand at our 45-year reunion.
Visit us on the Web!
Our class website: mccluer72.com. This is a great time to update your profile page!
Join us on Facebook: facebook.com/groups/McCluer72
View our 40th reunion photos on Shutterfly: mccluer72.shutterfly.com. (You have to create a free account to view the site if you don't have one.)
See our 40th reunion flash dance below. (Unfortunately, you can't hear the music, Adele's "Rolling in the Deep," due to copyright restrictions.)
Flash dance
Here's the Reunion Committee's Flash Dance at our 40th reunion. Unfortunately, the music, Adele's "Rolling in the Deep" was removed because of copyright restrictions:
---
Frequently asked questions
How do I join the website?
In the left, grey menu, click Missing Classmates. Find your name and click it.
Under JOIN HERE! you'll see "If you are (your name), please click here now to create your login."Just follow the directions. Current members have found it very easy to join. You don't have to enter a lot of information now (or ever). You can join in less than five minutes.
Registration is free and only open to members of the McCluer Class of 1972.
What if I know a Missing Classmate?
If you know someone on the Missing Classmate list and have their email address, click their name. You will see the message below:
"(Name) has not joined this site. Do you know where (Name) is? If so, please enter
(Name's) email address below and an automated notification will be sent inviting
(Name) to join our site.

"(Name's) email: _______________

"Only fill in this box if you are NOT (Name) and you are inviting (Name) to the web site."
McCluer72.com will automatically send an invitation to the classmate.
OR you can enter the classmate's email address in the Missing Classmates box in the upper-right corner of this page.
Please also send a personal invitation to the classmate, saying something like this:
"Hi (Name)!
"I just entered your email address on mccluer72.com, because we're planning our 45th reunion! You should get an email invitation from our website to join our site. Please check your spam folder if you don't get the email within about 30 minutes.
"Also, please add McCluer72.com to your contacts list so you get future notices. If you have a firewall, you may have to provide your administrator with the name McCluer72.com. We do not send spam."
How do I edit my profile page?
Our McCluer 72 reunion committee members have been busy since October 2011 trying to find missing classmates. We uploaded a master list and are adding information as we find it. After you register, you can re-edit and add information to your profile.
On the grey menu to your left under MEMBER FUNCTIONS, click:
and
Please make sure the information we have entered under Contact Info is accurate; if it's not, change it. Then be as creative as you'd like in your Profile section.

While you're at it, check out the other links in the grey menu. The point of this website is to share information and have fun!

If you notice we're missing someone, click contact us, and send us a note. If your note is about a married woman, please include her maiden name. (The "contact us" link is also in the grey menu at left and at the bottom of the Classmates page.)
Can I add to a notice on the In Memory page?
If you know of a deceased classmate who is not listed on the In Memory page (which you can acess from the link on the grey, left menu), please send a message to info@mccluer72.com.
You can post information, comments, and photos about a deceased classmate who is already listed on the In Memory page. Click the classmate's name, then the Post Comment button, type the text, upload a photo if you have one, and click Submit. (If you leave the page without clicking Submit, you'll lose your work.)
To add a photo or change your font, select the Switch to visual editor option at the bottom of the page. The Image button is at the top left, to the right of the Source button.